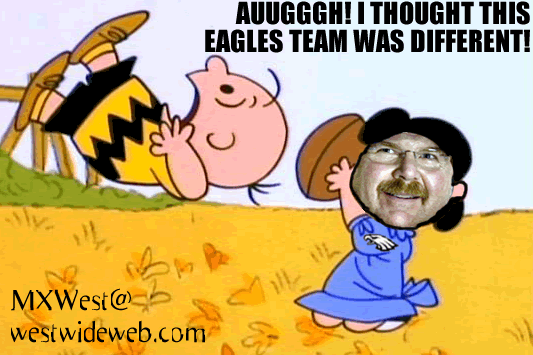 "[T]o lowest pitch of abject fortune thou art fallen" – John Milton
The current Eagles regime is without doubt, its most successful in its history. But look at that history – there's not much there.
They lured us in with a late season throttling of the hated Cowboys;  a workmanlike dispatch of the Who CaresVikings; and then a divisional playoff win over the loathsome Giants … oh, how they sucker-punched us yesterday. Not only did they lose the game, they lost it twice.
Wooing us with a thrilling comeback from and 18 point deficit! Left for dead they rallied, soaring to a 25-24 lead.
Only to let the Cardinals (the Cardinals. Does anyone remember when they were in the NFC East, and were totally inept and yet – they still beat us just about every year?) march right down the field.
"Ha ha! Fooled ya!"
And yet, I will undoubtedly be all a-twitter when draft time rolls around again.