The End Is Near
Already at Week 15, and still only 9 teams have been eliminated. Hard to believe that San Francisco, St. Louis and Seattle are not among those eliminated.
Poor Officiating and Michael Vick
I was stunned Sunday night during the Eagles-Cowboys tilt, when penalty after penalty went uncalled. Of course, I was biased in the Eagles direction. In particular, there was a missed facemask on Trent Cole, and, perhaps more egregiously, Anthony Spencer's unnecessarily rough treatment of Michael Vick as Vick was going out of bounds.
I've watched football for a long, long time, and yes, that call can occasionally be missed. But only rarely. I don't see running backs, or wideouts, or even kick returners getting roughed up like that. And if they do get roughed up like that, there's a flag.
And there should have been a flag Sunday night. Vick was clearly letting up and clearly headed out of bounds. Is something more afoot here?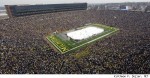 I find it difficult to blame the players. They will take anything they can get. Just ask James Harrison. But I am curious about the non-action of the referees. And I found someone else questioning this issue, too: Gregg Easterbrook, in this week's Tuesday Morning Quarterback column (published at, of all places, ESPN, the Cartoon Network of Sport). Easterbrook writes:
Are officials, as Andy Reid contends, allowing hits on Vick that they would flag if against Tom Brady or Peyton Manning — or for that matter against other quarterbacks who run, such as Aaron Rodgers (55 rushing attempts) or Ryan Fitzpatrick (36 rushing attempts)? That zebras are letting Vick take illegal hits seems indisputable. It's not just that officials regard Vick as a runner even when he's in a passing stance — penalties should be called if defenders hit the knees or helmets of players in a passing stance. TMQ thinks there is a psychological factor, too. Vick is an African-American who has been to prison. Society devalues people of that description, and allows them to be treated in ways that others are not. This is subtly different from racism, but a factor nonetheless. Ex-convicts who show no remorse are one thing; Vick paid his debt and by appearances at least is a changed man. Yet officials seem to view him as someone who's OK to try to harm. The NFL and its officials need to have a look in the mirror about this.
113,411 people turned out to watch the Michigan – Michigan State Hockey game. NFL (not to mention its Criminal Co-Conspirators, NCAA Division 1 and the BCS) Football is not the only game in town.
8:20pm
SAN DIEGO -10 over San Francisco. I have no clue about this game. Is anyone hurt? I can't imagine San Francisco pulling out this road game, and quite frankly, don't want to.