The Eagles Sunday Night game has been postponed until Tuesday night, the 27th 28th. This annoys me beyond all reason, primarily because I didn't particularly want the game "flex'd" to begin with – it was originally scheduled for 1pm.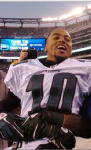 And anyway, now I'm a tad embarrassed that we have Minnesota in town and can't handle a little snow. Well, OK, maybe it's a lot. Mayor Nutter asked everyone to stay in after about 2pm, which is fine by me.
And I'm not making any picks this week. The Rams and Niners are playing for the division, or the NHL playoffs or whatever, which is shameful. And the Eagles aren't playing.
So to heck with it.
Merry Christmas, everybody!