So along comes the Apple iPad, and just behind it – the Wave of Great Hatred and Malice attacking it. For lo, the iPad is an Evil Device, exactly not what geeks, nerds, techies, webheads, etc. wanted.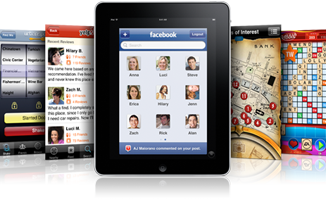 Maybe it's not for you. A lot of people just want to read their e-mail, look at their photos, read a web page, maybe (*gasp!*) –  read a book. What else is there to do? Multitasking is meaningless: most folks don't read their email and their friends' Facebook status at the same time.
(Note: I even have my doubts about the photo thing, if the line at the Sam's Club Photo Kiosk is any indication. Memory Card in, pictures print out. No computer necessary.)
Astounding as it may seem to all the TwittaBlogaMaccaWebosphere Cool Kids, most people's lives aren't entirely consumed by The Web and All Technology Attached To It.
There you were, poised to have Steve Jobs hand you the Golden Device of The Ages – only to have him announce he built something for Claudia in Accounting instead.
So stop sulking like jealous, spoiled 5 year olds.
Next week: Claudia becomes a fan of FarmVille; You and 4 others like this.