Norv "Peter Principle" Turner Tribute Edition
Today's interesting tidbit: the San Diego Chargers – now 6-6 after last week's debacle against the Raiders – have fallen out of oddsmakers' favor, since the oddsmakers are sane. They're now going at 15-1, down from last week's 6-1.
On to our tribute: how much longer can Norv Turner last in San Diego? He's a mediocre head coach who inherited superior talent from Marty Schottenheimer. Whoops. I mean he's less than mediocre. Through last week, Norv has a career .480 winning percentrage, 96 wins against 104 losses (and 1 tie).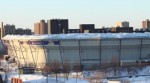 Marty has actually won more post-season games (5) in his career than Norv has (4). Of course that stat is a tad skewed, since Norv has only lost 4 games, whereas Marty lost 13.
Norv – and his defensive-minded doppleganger, Wade Phillips – are textbook examples of the Peter Principle. They have each risen to their level of incompetence, are aren't likely to be head coaches again. Well, once Norv is released from his current duties.
P.S. I was too busy to turn in a pick for Thursday's game, assuming there was one, which apparently there was but I could care less.
1pm
JACKSONVILLE -3½ over Oakland. Turns out the NFC West isn't the only crappy division in football. The AFC South is pretty middling, too.
PITTSBURGH -8½ over Cincinnati. How many years – nay, decades – of experience to you need to know that me-first teammates make for bad teams.
New England -3 over CHICAGO. I figure this is the week the Real Jay Cutler shows up.
BUFFALO Pick 'em over Cleveland. A team that is currently 1-11 cut the Browns' starting QB before this season.
Green Bay -7 over DETROIT. They are still the Lions after all.
Atlanta -7½ over CAROLINA. Woe, thy name is "Panther Fan"
Tampa Bay -1 over WASHINGTON. What about Mike Shanahan suggests he has head coaching skills any more? Or ever did, for that matter, when his QB isn't named Elway?
4pm(ish)
St. Louis +9½ over NEW ORLEANS. I just don't think the Rams will be blown off the field, and that's a lotta points.
Seattle +5 over SAN FRANCISCO. Remember I said I could never take Seattle again this season? Oops. I forgot the 49er Rule – Mike Singletary is still the Head Coach.
Miami +5 over NY JETS. The Jets may win, but they aren't scoring, and Sanchez looks shaky.
Denver -4 over ARIZONA. Too bad you can't just cancel games.
Kansas City +10 over SAN DIEGO. I know they don't have Cassel, but I have no faith in the Chargers. Run, Chiefs, run!
Sunday Night
DALLAS +3½ over Philadelphia. Maybe Reid has some Pickle Juice Magic somewhere. But I think we're watching the beginning of the end of a Good Run for the Eagles. Vick's blindside is protected, such as it is, by King Dunlap and Asante Samual is out.
Monday Night
MINNESOTA +3 over NY Giants, assuming someone picks up the Giants from the airport. And that the teams actually have some place to play since the Metrodome roof has collapsed.
Baltimore -3 over HOUSTON. Who will be watching this game?