Today's the day the Wrecking Ball starts bringing down The Ol' Spectrum. Ahh, memories.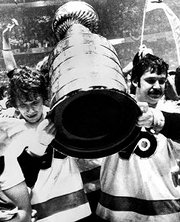 Now that it's just a shell, it's time to come down and make way for "Philly Live!" some sort of shopping or whatever thingie.
So here's My Favorite Memory: The Philadelphia Flyers winning the Stanley Cup in 1974. Simple and easy, right? I had just moved backed to South Jersey in the summer of '73, having freshly learned of the game of hockey during my time living in New York. So I was a young pup just making some new friends in the 3rd grade when hockey season started, and what a season it was. Bobby Clarke and Bernie Parent and Fred Shero and … well I could go on, but I'm not sure how to spell Dornhoefer.
In second place I'll go with J.J. Daigneault's game winning goal in Game 6 of the 1986-87 Stanley Cup finals. I had never – nor have I since, come to think of it – heard anything like that in my life.
My last – not lasting, mind you – memory will be the Queen with Paul Rogers tour a few years back, when a befuddled Brian May mumbled something about being in the "New Spectrum," which I suppose was technically true, if about 40 years late.