I have to admit, the thought had occurred to me as well: are the Eagles planning to switch up to a 3-4 defense? They've certainly used the look in the past, but will we see more in 2010? The current draft crop would certainly indicate that they may be leaning that way, and Ray Didinger speculates at CSNPhilly that he's wondered about just that himself – as have many a reader sending in emails.
Yes, but what of the Nose Tackle? Didinger opines :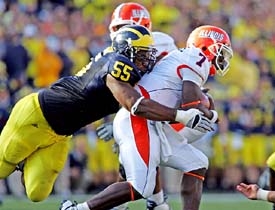 The nose tackle? Bunkley perhaps or maybe Trevor Laws. Bunkley has been cast as a run-stuffer with the Eagles, but at Florida State, he was a one-gap penetrator who set a school record with 24 tackles behind the line of scrimmage. Given the chance, I think he could play the nose and provide pressure up the middle.
We shall see. I don't think it's the worst idea I've heard. A defense predicated on speed is served well by a 3-4 alignment.